Waylon Jennings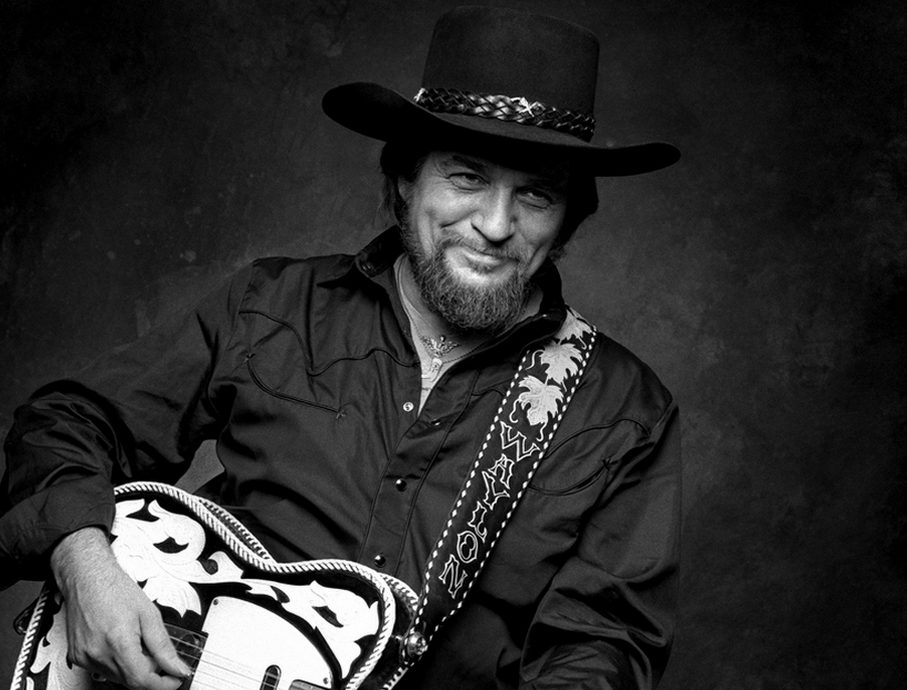 Jennings didn't write many songs, but his music — which combined the grittiest aspects of honky tonk with a rock & roll rhythm and attitude, making the music spare, direct, and edgy — defined hardcore country, and it influenced countless musicians, including members of the new traditionalist and alternative country subgenres of the '80s.
Jennings was born and raised in Littlefield, TX, where he learned how to play guitar by the time he was eight. When he was 12 years old, he was a DJ for a local radio station and, shortly afterward, formed his first band. Two years later he left school and spent the next few years picking cotton, eventually moving to Lubbock, TX, in 1954. Once he was in Lubbock, he got a job at the radio station KLLL, where he befriended Buddy Holly during one of the station's shows. Holly became Waylon's mentor, teaching him guitar licks, collaborating on songs, and producing Jennings' first single, "Jole Blon," which was released on Brunswick in 1958. Later that year, Waylon became the temporary bass player for Holly's band the Crickets, playing with the rock & roller on his final tour. Jennings was also scheduled to fly on the plane ride that ended in Holly's tragic death in early 1959, but he gave up his seat at the last minute to the Big Bopper, who was suffering from a cold.
Following Holly's death, Jennings returned to Lubbock, where he spent two years mourning the loss of his friend and working as a DJ. In late 1960, he moved to Phoenix, AZ, where he founded a rockabilly band called the Waylors. Jennings and the Waylors began to earn a local following through their performances at the local club JD's, eventually signing to the independent label Trend in 1961. None of the group's singles made any impact, and Jennings began working for Audio Recorders as a record producer. In 1963, Waylon moved to Los Angeles, where he landed a contract with Herb Alpert's A&M Records. By this point, Waylon's music was pure country, and Alpert wanted to move him toward the pop market; Jennings didn't cave in to the demands and his sole single, "Sing the Girl a Song, Bill," and album for A&M flopped.
Following the A&M debacle, Jennings landed a contract with RCA with help from Chet Atkins and Bobby Bare, and he moved to Nashville in 1965. After arriving in Nashville, he moved in with Johnny Cash, and the two musicians began a long-lasting friendship (which eventually resulted in a collaboration in the form of the Highwaymen in the '80s). Waylon released his first single for RCA, "That's the Chance I'll Have to Take," late in the summer of 1965, and it became a minor hit. With his second single, "Stop the World (And Let Me Off)," he had his first Top 40 country hit, and it began a string of moderate hits that eventually developed into several Top Ten singles — "Walk on Out of My Mind," "I Got You," "Only Daddy That'll Walk the Line," "Yours Love" — in 1968. At this point, he was working with Nashville session men and developing a sound that was halfway between honky tonk and folk. As the next decade began, he started to move his music toward hardcore country.
In 1970, Jennings recorded several songs by a struggling but promising songwriter called Kris Kristofferson, which led to a pair of ambitious albums — Singer of Sad Songs and Ladies Love Outlaws — the following year. On these two records, he developed the roots of outlaw country, creating a harder, tougher muscular sound with a selection of songs by writers like Alex Harvey and Hoyt Axton. During the following year, Waylon began collaborating with Willie Nelson, recording and writing several songs with the songwriter.
By 1972, he had renegotiated his contract with RCA, demanding that he assume the production and artistic control of his records. Honky Tonk Heroes, released in 1973, was the first album released under this new contract. Comprised almost entirely of songs by the then-unknown songwriter Billy Joe Shaver and recorded with Jennings' road band, the album was an edgy, bass-driven, and surly variation on stripped-down honky tonk. Jennings and his new sound slowly began to gain more fans, and in 1974 he had his first number one, "This Time," followed by yet another number one single, "I'm a Ramblin' Man," and the number two "Rainy Day Woman." Waylon's success continued throughout 1975, as Dreaming My Dreams — featuring one of his signature songs, the number one "Are You Sure Hank Done It This Way" — reached number 49 on the pop charts; he was also voted the Country Music Association's Male Vocalist of the Year.
Jennings truly crossed over into the mainstream in 1976, when Wanted! The Outlaws — a various-artists compilation of previously released material that concentrated on Waylon but also featured songs from his wife Jessi Colter, Willie Nelson, and Tompall Glaser — peaked at number one on the pop charts. Following the success of Wanted!, Waylon became a superstar, as well known to the mainstream pop audience as he was to the country audience. For the next six years, Jennings' albums consistently charted in the pop Top 50 and went gold. During this time, he recorded a number of duets with Nelson, including the multi-platinum Waylon & Willie (1978), which featured the number one single "Mammas Don't Let Your Babies Grow Up to Be Cowboys." Over the course of the late '70s and early '80s, Jennings scored ten number one hits, including "Luckenbach, Texas (Back to the Basics of Love)" (which hit number 25 on the pop charts and spent six weeks at the top of the country charts), "The Wurlitzer Prize (I Don't Want to Get Over You)," "I've Always Been Crazy," "Amanda," "Theme from 'The Dukes of Hazzard' (Good Ol' Boys)," and three duets with Nelson.
By the mid-'80s, the momentum of Waylon's career began to slow somewhat, due to his drug abuse and the decline of the entire outlaw country movement. Jennings kicked his substance habits cold turkey in the mid-'80s and formed the supergroup the Highwaymen with Willie Nelson, Kris Kristofferson, and Johnny Cash in 1985; over the next decade, the band released three albums, yet none of them were more successful than their debut, which spawned the number one single, "Highwayman." Also in 1985, Jennings parted ways with RCA, signing with MCA Records the following year. At first, he had several hit singles for the label, including the number one "Rose in Paradise," but by the end of the '80s, he was no longer able to crack the Top 40. In 1990, Waylon switched labels again, signing with Epic. "Wrong," his first single for the label, reached the Top Ten in 1990, and "The Eagle" reached the Top 40 the following year, but after that minor hit, none of his singles were charting.
Despite his decreased sales — which were largely due to the shifting tastes in country music — Waylon remained a superstar throughout the '90s and was able to draw large crowds whenever he performed a concert, while many of his records continued to receive positive reviews. In 1996, he signed to Justice Records, where he released the acclaimed Right for the Time. Closing In on the Fire followed in 1998. His work was slowed by his health in the years following that album, as complications from diabetes made it difficult for him to walk. His foot was amputated in December 2001 because of his illness, and he died on February 13, 2002, at his home in Arizona. ~ Stephen Thomas Erlewine