Roger Miller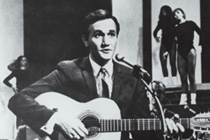 Assigned to Special Services, he played fiddle in the Circle A Wranglers, a well-known service outfit previously started by PFC Faron Young. After Roger's discharge from the Army, he headed directly for Nashville. Roger took a job as a bellhop at the Andrew Jackson Hotel where he soon became known as the "Singing Bellhop." He would sing a song to anyone who would listen on the way up or down the elevator.
Roger got his first big break when he was hired by Minnie Pearl to play fiddle in her band. Soon after, with the help of George Jones, Roger was awarded a recording session with Starday Records. Together Roger and George wrote "Tall, Tall Trees" and "Happy Child." From then on, Roger made a career as Nashville songwriter penning hits such as "Invitation to the Blues" (Ray Price), "That's the way I Feel" (Faron Young), and "Billy Bayou" (Jim Reeves).
As much as he loved songwriting, Roger still wanted to make a name for himself as an artist. He signed a recording deal with RCA Records in 1960, making his first appearances on country charts with songs such as "In the Summertime" and "When Two Worlds Collide." In 1964, Roger recorded the biggest hit of his career, "King of the Road" under Smash Records. Roger successes did not stop with the music industry. In the late 1980's Roger won a Tony for his score in the Broadway hit Big River, a musical based on Mark Twain's The Adventures of Huck Finn. To date, Roger is still the only country artist to ever win this award.
Roger passed away after bravely battling lung cancer in 1992, at the young age of 56. He never let his illness faze him publicly, and he gave his unforgettable last performance during CMA week in Nashville. In 1995, Miller was posthumously inducted into the Country Music Hall of Fame for his indelible contribution to the industry.