Jerry Jeff Walker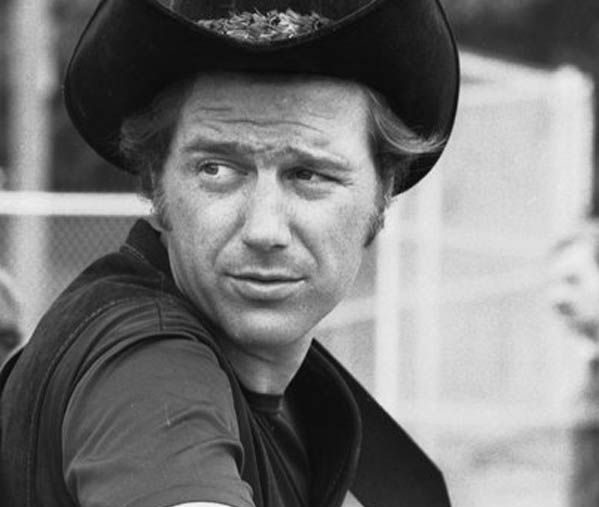 There's a photo on the back of a long-out-of-print Jerry Jeff Walker album that kind of sums it all up. In the picture, Jerry Jeff is outside an old roadhouse on a lonesome highway. It's night, and his collar is turned up against the chill breeze as he hunches over to light a cigarette. His guitar is slung around his back. It's hard to tell if he's entering or leaving the roadhouse, but either way you figure he's got many miles to go before he sleeps….
Somehow, one gets the idea that that is how Jerry Jeff has always pictured himself. Even when he was playing screaming cowboy rock 'n' roll to thousands of people in the 70s and 80s, the solitary troubadour was always on the inside, looking out.
"IT'S HARD TO TELL IF HE'S ENTERING OR LEAVING THE ROADHOUSE, BUT EITHER WAY YOU FIGURE HE'S GOT MANY MILES TO GO BEFORE HE SLEEPS…."
And that all happened before he became a star. Most folks know that story – how Jerry Jeff moved to Austin, Texas in the early Seventies and reinvented himself as a Lone Star country-rocker. He became, along with Willie Nelson and Asleep At The Wheel, one of the arbiters of the internationally famous Austin musical community. Since then, he has celebrated the music of peers such as Guy Clark and Townes Van Zandt, and served as a fountainhead and inspiration to younger musicians such as Robert Earl Keen, Pat Green, Jack Ingram and a moderately successful country tunesmith named Garth Brooks….
A string of records for MCA and Elektra followed before Jerry Jeff gave up on the mainstream music business and formed his own independent record label, Tried & True Music, in 1986. Another series of increasingly autobiographical records followed under the Tried & True imprint. The latest, Moon Child, brings Jerry Jeff's album catalog to the grand total to 33.
"HIS SONGS ARE THE WAY HE MAKES THE WORLD MAKE SENSE, HOW HE PASSES ON STORIES OF THE PEOPLE HE MEETS, THE WAY HE FEELS ON A GIVEN MORNING."
He's played for four or five presidents, toured in Lear Jets and bought a second home in Belize (the fruits, in part, of having penned an American pop standard, "Mr. Bojangles").
But even with all that, Jerry Jeff still sees the world with a troubadour's eyes. His songs are the way he makes the world make sense, how he passes on stories of the people he meets, the way he feels on a given morning. He has come full circle, back to his singer-songwriter roots. You might say he was heading this way all along.